142 Quick Set Steel Putty
PRODUCT DATA
Rezorect 142 Quick Set Steel Putty is a trowel-applied, medium abrasion resistant putty, designed to make quick repairs to steel parts and equipment. It protects against entrained particulate abrasion and wearing surface abrasion and is formulated with the maximum loading of specially sized and treated steel particles.
The combination of the steel particle reinforcement, with the corrosion resistant epoxy resin alloy, offers maximum performance in the areas of abrasion, friction reduction and turn-around time.
142 Quick Set Steel Putty may be post cured by several methods to accelerate complete cure, thus placing coated objects in service in a much shorter time.
The non-sagging, non-shrinking properties permit application to vertical surfaces, cavities and intricate parts. When cured, it may be machined with standard tools.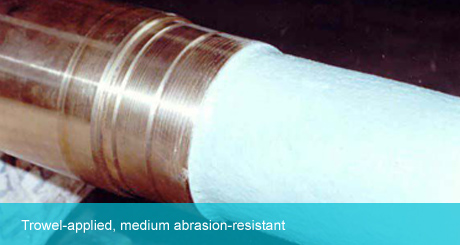 ADVANTAGES
Only the highest quality resins and reinforcements are used to produce Rezorect materials assuring the applicator of long lasting successful applications, when correctly applied.
Will not sag or run when applied to vertical surfaces.
100% solids and will not shrink.
When used for non-corrosion service, single coat applications are possible.
Specially treated and sized steel reinforcements create a smooth and continuous surface.
User friendly material is easy to mix and apply, reducing application time and returning equipment to service with shorter turnaround.
Long lasting protection to ferrous metals..
Putty sets within 10 minutes, hard within 1 hour.
Advanced adhesion properties assure long lasting protection without fear of undercutting or delamination.
APPLICATIONS
Hoppers
Bins
Chutes
Pump Volutes
Cooling Water Pumps
Valves
Slurry Equipment
Mix Tanks
Condensers
Water Boxes
Jigs
Pump Rotating Elements
Pipe
Pipe Fittings
Scrubbers
Filters
Discharge Doors
Cone Bottoms
Shakes
Conveyers
Spiral Separators
Flotation Cells
TECHNICAL DATA (simplified)
Finish
Smooth
Color
Gray
Components
Two (2)
Curing Mechanism
Chemical Reaction
Sag Resistance
@ 24C(75F) by 6mm(1/4 in)Thickness--No Sag
Theoretical Coverage
@ 1mm – 0.38m2 per 1kg of product
VOC
None
Volume Solids
100%
Service Temp Limits
93C(200F) Immersed 177C(350F) Dry
Flash Point
>93C(200F)
Compressive Strength
ASTM D-695 844Kg/cm2 (12,000psi)
Flexural Strength
ASTM D-790 570Kg/cm2 (8100psi)
Tensile Strength
ASTM D-638 260Kg/cm2 (3700psi)
Abrasive Resistance
ASTM D-4060 1000 Cycles, 1000 Grm load, CS/10 wheel, Taber abraser, 153 mg wgt loss
Adhesive Tensile Shear
ASTM D-1002 Steel 182Kg/cm2 (2600psi)
Concrete - Concrete Failure
Contact Rezorect
United States
Jacksonville, Florida
+1 (904) 268.4000 Phone
+1 (904) 268.3197 Fax