134 Mighty Metal
PRODUCT DATA
Rezorect 134 Mighty Metal is the hardest and toughest epoxy alloy metal repair, developed by Rezorect chemists and engineers. It boasts high compressive strengths in excess of 20,000 psi when cured at ambient temperatures, after 7 days, or in excess of 25,000 psi when post cured for 4 hours (after initial gelling), at 200°F (93°C).
134 Mighty Metal is the ideal material for repairing metal parts subjected to high shock loads or extreme pressures. Post curing not only increases compressive strength but also enables repaired objects to be returned to service in a relatively short period of time. The special metal alloy filler makes the material strong and hard and the use of tungsten carbide or diamond tooling is required for machining.
Its non-sagging, non-shrinking properties permit application to vertical surfaces, cavities and intricate parts.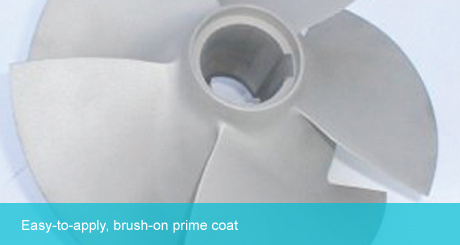 ADVANTAGES
Only the highest quality resins and reinforcements are used to produce Rezorect materials, assuring long lasting successful applications, when correctly applied.
Will not sag or run when applied to vertical surfaces.
100% solids and will not shrink.
When used for non-corrosion service, single coat applications are possible.
Specially treated and sized reinforcements create a smooth and continuous hard surface.
User friendly material is easy to mix and apply, reducing application time and returning equipment to service with shorter turnaround.
Long lasting repairs to ferrous metals.
Advanced adhesion properties assure long lasting protection without fear of undercutting or delamination.
TECHNICAL DATA (simplified)
Finish
Smooth
Color
Gray
Components
Two (2)
Curing Mechanism
Chemical Reaction
Sag Resistance
@ 24C(75F)by 6mm(1/4 in)Thickness--No Sag
Theoretical Coverage
@ 1mm 0.38m2 per 1 kg of product
VOC
None
Volume Solids
100%
Service Temp Limits
93C(200F) Immersed 177C(350F) Dry
Flash Point
>93C(200F)
Compressive Strength
Ambient Cure: ASTM D-695 >1406Kg/cm2 (>20,000psi)
Post Cure: ASTM D-695 >1758Kg/cm2 (>25,000psi)
Flexural Strength
ASTM D-790 513Kg/cm2 (7300psi)
Tensile Strength
ASTM D-638 379Kg/cm2 (5400psi)
Abrasive Resistance
ASTM D-4060 1000 Cycles, 1000 Grm load
CS/10 wheel, Taber abraser, 68 mg wgt loss
Adhesive Tensile Shear
ASTM D-1002 Steel 182Kg/cm2 (2600psi)
Concrete - Concrete Failure
Contact Rezorect
United States
Jacksonville, Florida
+1 (904) 268.4000 Phone
+1 (904) 268.3197 Fax